Complete On-Site Document Shredding Services
The Most Secure Onsite Shredding Services
A1 DATASHRED specializes in providing customized mobile document destruction services that allow businesses and individuals to ensure that confidential information is kept secure at all times. We provide the most secure and cost-efficient onsite service in the industry.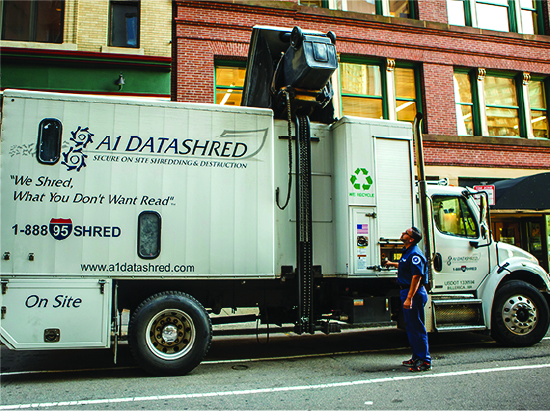 We Serve Our Clients with a High Level of Customer Service
A1 DATASHRED provides secure mobile document destruction and recycling services to the New England area. As a locally owned and operated company, we are committed to serving our clients with integrity and a high level of customer service.
A1 DATASHRED is a proud member of the National Association for Information Destruction (NAID). The NAID Certification Program establishes standards for a secure onsite destruction process including such areas as operational security, employee hiring and screening, the destruction process, responsible disposal and insurance.
Appropriate Documents for Shredding:
•Bank Statements
•Cancelled or voided checks
•Credit Card bills·or Credit Reports
•Financial Records
•Items with names, addresses, phone numbers and/or email addresses
•Personnel Records
•Pay Stubs
•Obsolete Brochures/ Stationary/ Files
•Receipts and Invoices
•Bulk Mail
•Credit Card Offers
•Tax Returns
•Employee Information
•Purchase Orders
•And More
You can have complete confidence and trust in A1 DATASHRED.
"Love these guys. My nonprofit uses them for regular document shredding, and we've hired them a couple of times to securely destroy old hard drives and other computer equipment. They're reliable, responsive, and a good value. If all of our vendors were this low-maintenance, my job would be a lot easier."
"They are awesome for us!"
"If you are looking for a Data Shredding Company, you should call this one! Patrice was very responsive & gave me a fair price! The guys were very professional & really hustled. In this day & age of Identity Theft that we are all faced with, it was very satisfying to see all of my files get shredded while I watched! Overall A+! Great job everyone!"
"We had boxes of paper, bags of paper, desktop computers, laptops, hard drives and other electronics. After a quick call to A1 Datashred, an appointment was scheduled to take care of everything!"
"A1 DataShred is the only company we trust to properly dispose of our client data and our computer hard drives when we take them out of service. Doing business with A1 assures our clients that we value their privacy."

Family owned business
Proud to be a woman-owned, family operated shredding company serving the Massachusetts community.

NAID AAA Certified
The NAID Certification Program establishes the highest standards for information destruction.
We service any size job
Our shredding services will accommodate any document destruction need or frequency.
Our guarantee
We guarantee that your important papers will be secure from the time you release them to us until they are destroyed.
Partner with a highly secure and certified onsite shredding company.